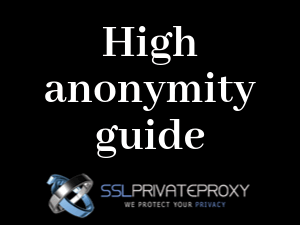 Thanks to technology, the world is becoming a more transparent place. Transparency is a tremendous thing. However, a more transparent world leads to less anonymity and privacy. Internet users are more concerned about their anonymity and privacy. They start to employ tools that will help them fight privacy concerns and increase anonymity. However, some of these tools, if used slightly incorrect, can lead to exposure. Thus, their users will not see the results of privacy and high anonymity. While these tools are working, to increase privacy and have a high anonymity Internet experience, users must handle these tools in unconventional ways.
HIGH ANONYMITY TOOLS
There are a few tools which users can buy or download for high anonymity. Depending on their anonymity needs, users can buy private dedicated proxies, virtual private networks or TOR.
Basically, each one of these three tools is designed to hide a user's IP and location and make Internet experience anonymous. All these three tools divert Internet traffic through a third party. And all the user's request will show as coming from the third party's IP. Thus, hiding the initial IP of the user.
However, each tool hides a user's IP in a different way. Private proxies act as a man in the middle, thus diverting the user's traffic through the proxy server and hiding the user's headers. And usually, private proxies are used at a software level. Meaning that the proxy can be used to hide traffic from a browser or an automation tool. But, private proxies can also be used at a system level through proxyfier, a tool that diverts all traffic.
On the other hand, a virtual private network is built to provide high anonymity at a system level by diverting traffic through the VPN server. Moreover, a virtual private network will also encrypt the traffic between the user's system and the VPN. Thus, adding an extra layer of safety. And both the ISP and local government can't see what a user is browsing. They can only see encrypted traffic transferred from the user's system to the VPN server.
Finally, there is TOR, another high anonymity tool which diverts a user's traffic through its network. Thus, for each request, the user's changes its IP automatically, making it hard to track the real IP and location of a user. But while Tor provides anonymity and privacy from third-party users, the exit node of the TOR network can always be monitored. Thus, users can risk losing their data.
STRAIGHT LINE ANONYMITY
Most people consider that for straight-line anonymity, they need using only one of the above-mentioned tools. They will use private proxies for anonymity at a browsing level. Or they will use the VPN to provide anonymity at a system level. And TOR to hide their real IP and pass undetected.
However, there is a slight issue with this setup. This is a straight line anonymity setup. Meaning that the user is always at risk of disclosing its location and real IP, thus the high anonymity will be compromised.
While these tools provide high anonymity, their users need to add one extra layer of anonymity in order to become anonymous on the Internet. Therefore, they must use these tools in unconventional ways.
UNCONVENTIONAL ANONYMITY
For high anonymity, Internet users concerned with privacy don't need to hide only their requests headers, they also need to make it difficult for third parties to trace the traffic and request back to their original IP and location.
And one way to make it almost impossible to trace back a request IP and location are by using two privacy tool for a high anonymity level. Moreover, there is one more tool which users can use in order to add one extra layer of privacy and make it more difficult to trace requests back to them. They can use a VPS, virtual private server as well.
The virtual private server is basically a rented PC in a remote location, which the user can access it at any given time.
A setup for high anonymity might look like this. First, at a system level, the user sets a VPN, which encrypts the traffic coming and going between the user's machine and VPN server. Then, the user can use the VPN to access a VPS. And inside the private server, the user will set a private proxy inside a browser.
Thus, a user's request will be hidden behind encryption and several IPs. A request from this setup will look like this:
REQUEST[ORIGINAL IP] ->ENCRYPTED-> VPN [2nd IP] → VPS [3rd IP] →PROXY SETUP → PROXY SERVER [4th IP]
A request coming from a high anonymity setup like this will be almost impossible to trace, as the user's request is hidden behind encryption and 4 IP locations.
The unconventional guide to high anonymity
was last modified:
September 16th, 2019
by