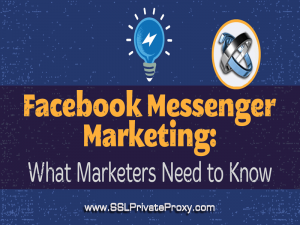 For all those of you involved in online marketing, a new channel is emerging right under our eyes. And with the help of Facebook proxies, we can capitalize and help online businesses reach a larger audience.
This new channel doesn't involve installing a new app, or social media platform. It just requires the use of the Messenger App provided by Facebook. Furthermore, due to the lack of starting capital, anybody can start using this method. However, for those looking for a scalable model, this method requires the purchase and implementation of Facebook proxies.
THE BIG NEWS
The big news wasn't a headline in major daily publications. But it was earthshaking for the advertising and marketing media. We are sure almost anybody heard this news, or saw it in action.
The news is the decision of Facebook to start rolling advertising in its Messenger App. Nothing more, nothing less. However, if we dig deeper and think for a second, we can see what a big opportunity it represents.
And those marketers knowing how to use proxies are already rolling their sleeves and starting to work on ways to profit from this news.
While this news doesn't bring any new technology to the table, it simply opens a new marketing channel because Facebook, beside rolling their ads, will also start being more permissive to a more commercial use of its Messenger App.
For start, let's see how are Facebook proxies used now and then you will understand and see how to use them in Messenger marketing.
HOW ARE FACEBOOK PROXIES USED
Up until today, Facebook proxies were used simply as a way to manage multiple accounts either in a certain geographical area, or on a national level.
The strategy consisted of developing and managing several accounts from the same server. And these accounts were used to gather a large friends base and then spread marketing messages through commenting and posting in groups and friends' time lines.
While some marketers where using Facebook proxies to perform some form of direct messaging marketing, now we think that almost anybody can start using Facebook proxies to roll messenger marketing campaigns.
HOW TO USE PROXIES FOR MESSENGER MARKETING
With this news coming from Facebook, the largest social media platform will become more commercially friendly and will allow a more permissive use of their Messenger App.
Therefore, all marketers involved in Facebook marketing and advertising can start developing accounts in order to reach a large friend base.
Furthermore, some marketers might decide to scrape posting in relevant groups and focus entirely on spreading their message through the Messenger App. And there is a major argument in the favor of the above mentioned.
THE LIMIT IS THE OPPORTUNITY
The great advantage presented by Messenger advertising is the limit this medium imposes. While a direct message might be seen by only one person, the chance of that person reading the message and clicking any link inserted into it are close to 100 %.
This is due to the fact that most people read all their messages received through the Messenger App. And while Facebook advertising might be less intrusive, a direct message send from a friend will be remarked and act upon as soon as it reaches its destination.
In addition, with this method, marketers can completely disregard content creation. They only need several message models, or several variations of the same model. Then schedule these messages to be sent to their recipients on a regular basis.
However, there is one major drawback. You will not be able to hit the same Facebook friend with the same message several times. Therefore, you must create a relationship with them. And the best way to achieve this is by creating a 2 to 1 system. This consist of sending two messages of general interest, news or preferably something funny. And then the third post should be a link to one of your offers.
Moreover, your messages should be scheduled and sent on a weekly basis. So, avoid sending more than one message per day to the same recipient. Otherwise, you risk losing friends because other users will see their behavior as 'pushy'.
WHERE TO BUY FACEBOOK PROXIES
While there are several proxy providers offering Facebook proxies, we recommend you buy facebook proxies from SSLPrivateProxy. Our Facebook packages consist of virgin proxies. Meaning they have never been used for Facebook before.
In addition, all our proxies are HTTPS and our databases cover most of the U.S. states. So buy Facebook proxies and start marketing through Messenger App advertising. And once you found success, scale your operation easily with more proxies and a more powerful server.
Use facebook private proxies for messenger marketing
was last modified:
April 23rd, 2017
by