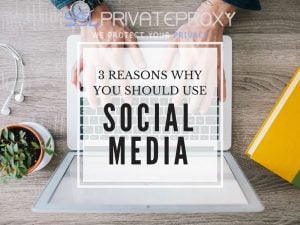 Online marketing is an ever changing domain. The environment is always shifting. Therefore, online marketers need to always look for new ways of generating revenue. Sometimes looking to new revenue streams mean only to look for new affiliate networks. And for those marketers in need of new revenue stream, social media proxies can be used to test new affiliate networks in a faster way and with more exact results. Furthermore, there are many reasons for which using social media proxies can be a great tool for testing new affiliate networks.
3 REASONS TO USE SOCIAL MEDIA PROXIES
By themselves, social media proxies will not generate traffic, nor revenue. However, if you are going to use social media proxies to connect accounts and automate them, then you will be able to generate traffic.
1. REACH A LARGER AUDIENCE
One of the great benefits of using social media proxies to automate accounts is the opportunity to reach larger audiences. And by reaching larger audiences, you manage to get a better view over which network converts best and generates profits.
Another benefit of a larger audience is the mitigation of 'noise'. By simply reaching more people, variations and outliers are diminished, therefore the results obtained will offer a better picture to the sort of returns a marketer can expect once he start developing marketing campaigns through all its social media proxies.
The second great benefit of using social media proxies for testing new affiliate networks is the speed with which results are generated. Because, when you use social media proxies and deploy a campaign on several accounts, the returns will be generate faster than when deploying the exact same campaign through a sole accounts.
And with faster results, comes faster tweaks. Once results are returned and the strategy adjusted, the profits could start being generated faster.
3. A REAL A/B TEST ONLY THROUGH SOCIAL MEDIA PROXIES
A/B tests require deploying the same strategy to two groups of people, but with a minor change. Performing A/B tests from one accounts takes time. In addition, an A/B test through one account requires adjusting one element per test. This is where social media proxies come in handy. By using them, a marketer can deploy an A/B test to several groups at once. He can achieve this because he has a larger audience and several accounts at his disposal.
THE INFRASTRUCTURE SETUP
As you noticed above, those are just a few benefits of using social media proxies. Furthermore, the infrastructure you will need to use requires several social media proxies. This are private proxies for social media. Meaning they are virgin proxies for the underlying platform. Once you have your proxies and accounts, you need a social media automation tool. And in some cases, a virtual private server to install and run the automation tool 24/7.
Once you have set your infrastructure in place, is time to start testing new affiliate networks. There are three main ways through which you can test them with the help of social media proxies.
3 WAYS TO TEST NEW AFFILIATE NETWORKS
1. CUSTOM BUILT LANDING PAGES
This method is very simple and does not require any coding or technical knowledge. All a marketer needs to do is to use a WordPress theme for a landing page, or an already custom built landing page and domain. Following, he simply needs to promote it and reach the largest audience possible.
The advantage of this method is its simplicity and speed of implementation. The marketer only needs several social media accounts through which to start posting the link towards the landing page.
The drawback to this method is the risk of getting banned by a social media platform. If the same landing page is used by several accounts, the social network might simply ban the domain. The only available option is only for the technical savvy marketer, they have to implement a cloaking script and divert crawlers to other areas of the web.
The second method of testing new affiliate network is to create blog posts in one, or several blogs and then insert affiliate links where is required. One variation of this method is to simply create blog posts about the product or service at hand. For example, for a barb trimmer, the marketer can start creating comparison posts about two or more items.
The advantage of this method is that it can drive only traffic with buying intent. However, the disadvantage is the bounce rate and the lack of interest that it might raise to your audience. For this method, you need to use you social media proxies as a content distribution network.
3. PROMOTE THE LINK IN A SOCIAL POST
The third method of promoting with social media proxies is the simple, yet effective method of promoting an affiliate link straight in a post, tweet or in link bio.
The advantage of this method is the cookie distribution. Chances are that many followers will be clicking on the affiliate link, thus getting your cookie in their browsers. However, the drawback is that many social media networks might simply start blocking your accounts due to spam like behavior.
TO WRAP UP
With an ever changing environment, marketers need to always look for new ways of generating new revenue streams. Sometimes new revenue streams might simply mean looking for and then testing new affiliate networks.
There are several benefits of using social media proxies for testing affiliate links. Furthermore, there are more than one way of testing a new affiliate link, once the marketer decided to start a testing campaign. In addition, in order to generate precise results and faster, a marketer should use social media proxies.
How to use social media proxies to test new affiliate networks
was last modified:
February 25th, 2017
by