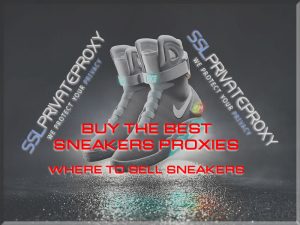 Buying Nike proxies to use for coping sneakers on shop.nike.com can be a straightforward task. First, you must get a VPS and a sneaker bot, followed by Nike proxies. Once you have your setup in place, you can start coping for sneakers. However, one more issue arises once you start coping successfully. You need a place to start selling your freshly coped sneakers.
There is a high chance you have already thought of ways to sell the merchandise you will buy with the help of Nike proxies. In this article, we are going to present five websites where you can easily sell your products.
In addition, after you coped items with Nike proxies, you can post on all 5 websites. There is no need to sell your product on only one website.
GET NIKE PROXIES FROM WWW.SSLPRIVATEPROXY.COM
Many will consider getting, or even using only a few Nike proxies. Thus, they look over the Internet for companies offering Nike proxies selling packages of 5, 10 or 50 proxies.
However, there is a little problem with all these packages selling a small number of proxies. First, Nike and other sneaker selling websites have restrictive policies regarding the use of automation tools, or automated selling behavior. Second, sneaker websites ban and blocks whole ranges of IPs. Thus, if you get 10 IPs and you blocked them, the next 10 proxy IPs might be banned on sneaker websites.
Thus, the best way to purchase sneaker proxies, including Nike proxies is by buying a whole range of IPs. All 250 (not exact number) of them and use them for your small operation.
Only by getting proxies this way, you know that all 250 proxies are working and you do not run the risk of getting any proxy blocked by sneaker websites. Thus, nobody will interfere, nor limit your ability to cop. Bottom line, buy Nike proxies from SSLPrivateProxy.com.
Furthermore, let's see the five places, or websites, where you can sell your Nike sneakers after you cop them.
5 WEBSITES TO SELL SNEAKERS COPPED WITH NIKE PROXIES
Very few people will consider the largest online e-commerce website as the place to sell their sneakers coped with Nike proxies. However, Amazon with its user base comprised of millions of people is a great place to sell any physical product, including Nike proxies.
Furthermore, one great advantage of using Amazon is the trust your items' posts will instantly get once they are advertised on Amazon.
The largest board of local ads can be a great place to start advertising your items. Simply cop items with the help of Nike proxies and start advertising them locally on Craigslist.
In addition, you can scale this operation by simply buying classified ads proxies from SSLPrivateProxy and advertise your items on a regional or national level.
While many will disregard Ebay as a viable platform for selling sneakers coped through Nike proxies, you should definitely ignore them. You should consider Ebay as another platform through which you can sell your product.
Ebay should be considered because it is still the 6th most visited website in United Stated and attracts 1.14 billion visits per month. And one thing you should not neglect is that most of this visits have buying intent.
Social media is always a great way to sell, or advertise your products. Apart from LinkedIn, all major social media platforms are free to use. And with the help of an automation tool and social media proxies, you can start reaching thousands or tens of thousands of potential buyers.
In addition, you can use all social media platforms to advertise your freshly acquired Nike sneakers.
Very few will consider using YouTube for selling Nike sneakers. Therefore, you should start using YouTube exactly for this reason. Nobody else uses it, so the competition in low.
The second largest search engine has one more great use. It can increase your SEO score, and your videos can be displayed also on Google searches.
WHICH PLATFORM YOU SHOULD USE
There is no perfect platform where you can sell your items after you acquired them through Nike proxies.
You should consider all the above mentioned platforms and tests which one is best suited for you and which one brings the highest returns.
In addition, if you consider using social media as a selling funnel or advertising channel, you can use your Nike proxies also to connect your accounts.
Buy Nike proxies from SSLPrivateProxy and be ready to cope Nike sneakers at the next available release.
Nike Proxies and 5 places where to sell your sneakers
was last modified:
May 25th, 2017
by