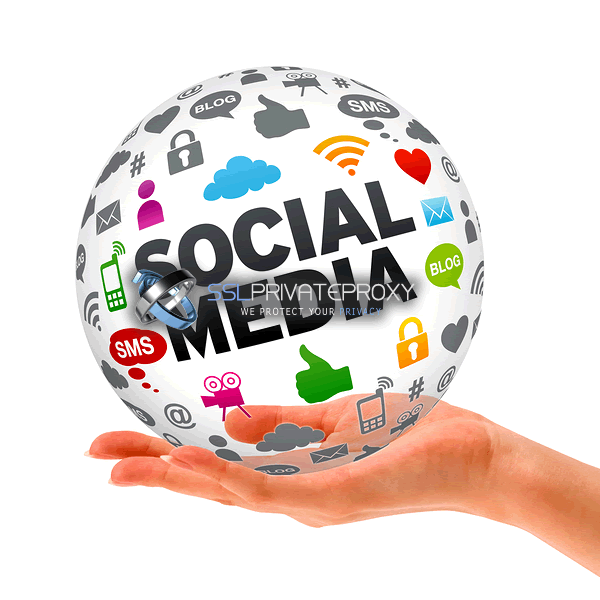 What does an anonymity tool such as a private proxy has to do with social media? Our answer is a lot. As mentioned in a previous post, successful social media campaigns rely on alternative use of certain tools.
Peter Thiel mentions in his book that most successful businesses rely on trade secrets. Secrets that usually are as simple as using private proxy and anonymity tools for social media marketing.
You should start using now private proxies or social media proxies, such as an Instagram Proxy or Pinterest Proxy for you accounts management. The benefits are tremendous, both for your social reach and for your business bottom line.
WHY USE PRIVATE PROXY FOR SOCIAL MEDIA MARKETING
It is well known that social media platforms, fearing spammers, limit the number of accounts that can be used on one IP, to five. That's right! If you have more than five Pinterest accounts, your IP and accounts will be banned.
The more accounts you have to manage, the higher the risk your accounts will be blocked. If those accounts are your clients' accounts and they get banned, your business will be damaged severely.
The last thing you need is more than 5 clients to complain about your services. You can avoid all this, by simply implementing private proxies into your operational flow. Divert every account through a private proxy, in this way, you will ring-fence your clients accounts, similar to what a bank does with their customers' accounts.
In addition, you can automates the boring repetitive tasks. By eliminating the time needed to follow other users, or hashtags, you can focus more on curating content for your posts. Content that will help you become more relevant for you followers.
And finally, by being able to manage more than five accounts thanks to private proxy, you will get higher returns on your monetization strategy. As a bonus, with more accounts, you can split-test monetization techniques and see which one brings the higher returns.

WHO USES THESE PROXIES FOR SOCIAL MEDIA MARKETING
For you personal account, there is no need to implement anonymity tools. You can simply use it straight forward. But, if you are not using already private proxy, you should start thinking about it now.
Some of your peers are already using private proxies and social media proxies. Usually, they are part of one of the following groups.
Online publishers rely on social media proxies to manage their targeted accounts. Media publishers such as Huffington Post or BuzzFeed are running multiple accounts. From news accounts, to food, funny or healthy living accounts.
These accounts are managed from the publishers headquarters. And if the limiting account number is five, imagine the blow the image of Huffington will suffer if they get banned from social media.
If you are a small publishing company, as soon as you expand from one to more than five accounts per platform, you IT manager needs to consider implementing private proxies into your operational flow.
Marketing agencies use and will continue to use private proxy and social media proxy. They have to use them, as mentioned, to ring-fence their clients' accounts.
A marketing agency with several corporate social accounts can not afford to have any of their clients' big followings banned due to an IT mismanagement.
If you are a local, or small marketing agency look for ways to integrate private proxies or social media proxies into you operations. As soon as you get more than five clients, it will become a need to do business via private proxies. Better start now.
What does have to do an internet marketer with private proxy use? An internet marketer is similar to a stock investor. The same way an investor diversify his portfolio by buying different companies, the same way an internet marketers manages several accounts related to different niches.
There are internet marketers who have diverse niches from sport, fashion to pets or gardening tools.
For every niche website they develop, they have to drive targeted traffic to it. The best way to do it is through social media. So the development of several accounts and the use of private proxy is routine for a successful internet marketer.
TOOLS OF TRADE TO USE THROUGH PRIVATE PROXY
As mentioned above, you will manage to automate the repetitive task such as following users who post a certain hashtag.
The tools used through private proxy are tools such as Pinbot and FollowAdder, tools for social media automation.
Furthermore, these tools can be integrated further with dedicated proxies such as Instagram Proxy or Pinterest Proxy.
HIGHER RETURNS THROUGH PRIVATE PROXY
In addition, by running multiple accounts, one opportunity becomes available for publishers and internet marketers. Opportunity such as monetizing their social media accounts.
With great followings come great monetization opportunities. With Instagram you can monetize with shoutout campaigns. Partnerships in which companies promote their products through the great followings of authority accounts.
For Pinterest, if you run several accounts with Pinbot, through Pinterest proxy, you can monetize with affiliate links or affiliate landing pages.
TO SUM UP
You don't need private proxies for you personal social media account. But, if you are a publisher, marketer or marketing agency, in order to expand and develop, you will need private proxy for your operation to function smoothly.
In addition to managing several accounts, with private proxy or social media proxy, you will ring-fence and protect you clients' accounts from errors and bans.
For businesses that are running several of their own accounts, by buying private proxies or special dedicated proxies such as Instagram Proxy or Pinterest Proxy, the path towards monetization will expand further.
Start looking at ways to implement private proxy now in order to get the opportunities that are lying ahead.
Private Proxies make your Social Media Marketing more productive
was last modified:
August 25th, 2016
by