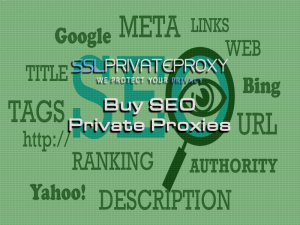 If you are an SEO agency in its beginning, or you simply want to be more successful, then consider buying SEO proxies and use them for your clients. While not all your projects might require proxies, it is best to always have a series of proxies and several IPs set aside for fast deployment. Just in case.
DO YOU NEED SEO PROXIES?
While at the beginning, any SEO agency thinks of bootstrapping and limiting their expenses. And many will consider that buying SEO proxies is not yet necessary. It might not be if you have only one client that requires just on-page SEO.
However, if you have a couple of clients requiring both on-page and offpage SEO, your only alternative is to buy SEO proxies. Furthermore, bellow you will find six reasons for which any SEO agency, either a startup or already established need to buy and use private SEO proxies.
1. ALLOCATE DIFFERENT IPs OR PROXIES FOR EACH CLIENT
The first thing any professional SEO agency need to do is to isolate each project from the others. Thus, protect each client from the others. And the only way you can achieve this is by separately allocating SEO proxies to each client of yours.
Best practices require that you should allocate SEO proxies when you sign up your client. Thus, any action performed for your new client could not be traced back and linked to other clients. Also, save your proxy allocation for each client on separate text files located in different folders. In this way, you can upload them fast enough and implement in any SEO tool.
An SEO agency's performance is reflected in their clients' ranking. And the best way to stay updated is to perform experiments.
In order to isolate your experiments to not harm any of your projects, use SEO proxies while performing them.
Perform experiments after each Google update, or rank churn and burn websites to understand how Google ranks.
In addition, you can use SEO proxies to experiment with proxies mix. Thus, next time when you sign a new client, you can allocate them less private proxies if you manage to find the perfect mix of private and public ones.
3. YOU WILL WORK TO RANK IN DIFFERENT NICHES
This is no more a measure for protection, but a measure to ensure you will be able to fulfill your duty.
As a SEO agency, you will work with different clients from different sectors or niches. For some clients you will need to perform some local SEO. While for others you will need International proxy locations in order to rank their websites.
No matter the scope of each project, you need SEO proxies.
4. RESULTS SHOULD BE LONG LASTING
Everybody wants long lasting results for their SEO clients. This is the best way to keep your client happy and the recurring payments to come in.
Long lasting results are achieved with the help of professional tool and careful consideration. Therefore, avoid at all costs posting two different comments with backlinks for two clients from the same proxy IP.
In addition, for each client, you should try to perform as many manual actions as possible. Therefore, try to use SEO proxies only to make queries and find blogs and forums. And then manually post comments or forum posts after analyzing their domain profile.
5. CREATE A BACKLINK DATABASE
This reason of using SEO proxies is purely beneficial to SEO agencies and webmasters with multiple domains.
Basically, all you need to do is to use SEO proxies to make search engine queries and save the findings in a spreadsheet.
Then, look through that spreadsheet and manually check for domains that offer do-follow links. Afterwards, be ready to deploy your backlink database for any client you find fit.
6. SUCCESSFUL CLIENTS = REFERRALS
The last thing any SEO agency wants is one of their clients to receive a Google penalty. Therefore, any strategy you implement must be the safest route to the biggest gains for your clients.
Getting penalized or suffering ranking issues because of poor SEO proxies is poor business.
In addition, once a client refers other clients, you must look into buying more SEO proxies to allocate to your new clients.
TO WRAP UP
Any SEO agency must look for ways in which to protect their clients and create long lasting results.
If you are a starting SEO agency, you should look into using SEO proxies even for your first client. And if you are an established agency, you should consider and review your proxy provider and the proxies offered.
6 reasons SEO agencies must use SEO proxies
was last modified:
April 23rd, 2017
by