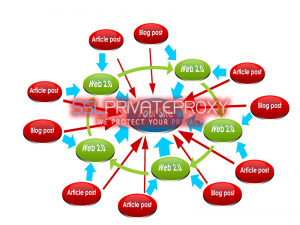 Using SEO proxies to perform automated backlinks building is increasingly more dangerous for your websites. Furthermore, many SEO experts quit this strategy altogether because they think is too risky and Google might penalize their websites with a downgraded ranking.
However, using SEO proxies with either Scrapebox, or any other SEO tool, can still be a valuable method for you to build backlinks. Not automatically as before, but a more hybrid way.
WHO CAN USE SEO PROXIES
Previously almost anybody could use SEO proxies for their websites. Now this job has become more specialized and the use of SEO proxies fell in the hands of webmasters and SEO agencies.
Previously SEO proxies were used by most webmasters in their journey to build a backlink strategy for their websites. However, today, due to higher costs this method can be applied by webmasters or by those with a large capital allocation for SEO.
However, using SEO proxies as described below is beneficial only to webmasters, SEO agencies or anybody looking to create a backlink database.
First we are going to show how proxies were used previously for backlink building. Then, we are going to demonstrate how to use SEO proxies in 2017 and create a backlink database.
HOW WERE SEO PROXIES MOSTLY USED
Previously, SEO proxies were used only in fully automated processes. First the SEO tool would have performed multiple search queries through proxies and find relevant blogs or forums.
The second step, of this automated SEO strategy, involved the use of those proxies to post blog comments or forum posts.
Third, upon indexing by Google, most of those blog comments or forum post were transformed into backlinks for the underlying website.
This was an easy to follow strategy. The most a webmaster or SEO agency needed to do was to buy Scrapebox, some bulk proxy packages and then let the software run for a few hours or days.
However, this strategy is not relevant anymore. You can still build backlinks through it. However, if Google finds your backlinks as irrelevant and created automatically, it can penalize your website and harm your ranking.
Therefore, in order to use SEO proxies to create backlinks in 2017, there is a method webmasters can still use to rank their websites.
SEO PROXIES AND THEIR USE IN 2017
As we stated in a previous article, after the Fred update from Google, websites with poor content were penalized and their ranking was harmed. Moreover, automated backlink strategies are easily identified and the websites using them can not maintain their rankings for more than a few weeks.
With all this in mind, you can still use SEO proxies with automation tool. As we said, in a previous article, you can use SEO proxies to find relevant blogs and forums. And then post manually comments and forum posts with backlinks towards your website.
However, there is another method for which you can use SEO proxies. But this method is not suitable to anyone performing search engine optimization. For example, for an webmaster with only one website, this method can be very costly. However, once you manage more than two websites, this method starts returning great benefits.
USE SEO PROXIES TO CREATE A BACKLINKS DATABASE

This method simply consist of creating a database with all the blogs and forums that still allow do-follow links in their blog comments or forum posts.
Simply put, you need to automate only the discovery part of your SEO strategy. But this time, you automate it with the intent of creating a database divided into categories and niches suitable to a webmaster with multiple websites.
This database can consist of a single spreadsheet with multiple files. There you list all the blogs and forums you found by performing search queries through your SEO proxies.
While previously we said that once your SEO tool returns the blogs and forums relevant to your keyword, you should manually comment or post in them. However, with this database method, we recommend that you simply list all your findings in a database. And then review them to find the ones still offering do-follow links in their comments or posts.
THE NEXT STEP AFTER CREATING A DATABASE
The next step after creating your own database is to create either content, or look for ways to post your links in the blogs and forums fetched via SEO proxies.
As mentioned, this method is suited to webmasters with multiple websites. Therefore, once this database is created, the webmaster can return to it, browse it and decide on which blog or forum he should comment next.
TO WRAP UP
While automated backlinks strategies started losing their appeal and returns, you can still use SEO proxies to automate the scraping part of your strategy. And then, once the results are returned, create a database with domains that allow do-follow links in their comments or posts.
Use SEO private proxies to create your backlinks database
was last modified:
April 23rd, 2017
by